Wheels of Time
Wheels of Time – badge collecting family fun
Join 'Roamin' Rex and discover many of Kent's museums and heritage sites, collecting individual badges along the way. Visit any of the museums and heritage sites shown on the MAP and collect a different badge at each one.
   You can now collect  physical badges from 56 sites (2023-4)
Earn award badges – on site visits
Collect a lanyard to display your badges at your second site and collect 10,20,30, 40 or 56 badges to earn a special Roamin' Rex award badges. Contact Wheels of Time via AWARDS to make arrangements to be presented with your award badge.
Badges are available to child visitors aged between 5 and 11 years visiting with their family.
Maidstone Museum's badge features Spike Dino. Please ask at the main reception for your badge.
For more details, head over to the Wheels of Time website today.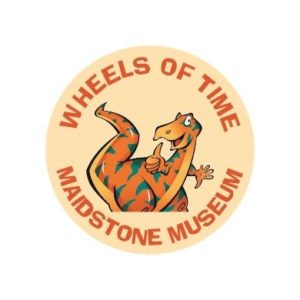 Please note: 'Wheels of Time', 'Roamin' Rex' and the Roamin' Rex logo are trademarks of Ashford Borough Museum Society.