Back to all posts
The Story of L/9831 Patrick Donovan DCM
By Steve Finnis, QORWK Museum volunteer
Patrick Donovan enlisted into the Queen's Own Royal West Kent Regiment on the 26th of February 1912. Although he was very keen, and had joined the Special Reserve earlier, he was not the most promising material. He was only 5'2½" tall, when the usual requirement was 5'4", and he was unable to verify his age, so his parents, both illiterate, made their marks to certify he would be eighteen on the 2nd of May. They could not produce a birth certificate.
But although he was too short, he was in good physical shape and was accepted. He went off to join the 1st Battalion in Dublin. Unfortunately, we don't have an image of him, but we can perhaps imagine him. His medical examination describes him as 5'2½" tall, weight 131 Lbs, fresh complexion, brown hair, hazel eyes with a "female" tattoo on his right forearm. He seems to have been quite a character who had some difficulty settling into expected army conduct. His conduct sheet contained an impressive variety of crimes. He returned late to barracks after evenings out, usually drunk; he was inattentive on parade; he talked on parade; he had dirty equipment; he had a rusty bayonet; he used obscene language; he was caught gambling in barracks; on the rifle range he opened fire without being ordered to; he caused a disturbance on a tram car (sadly, no further details); he conducted himself improperly in Sackville Street; he missed church parade, he was dirty and unshaven and once he managed to lose six rounds of live ammunition when on piquet duty during a strike in Dublin. This was a serious offence, for which he received 168 hours (7 days) detention. Missing ammunition at the time would most probably end up with the I.R.A.
At the end of his first years' service his report was "Guilty of many minor irregularities. Inclined to be dirty, but works hard."
A year later the report was "As above, but tries to improve."
The First World War broke out and in August 1914 the battalion moved to France, going into action on the 23rd August at Mons. During this engagement Patrick Donovan promptly became the first man in the regiment to win the Distinguished Conduct Medal, just one down from the Victoria Cross. The battalion history records:
"Some fine acts of devotion to duty by the Battalion stretcher bearers were witnessed during this first day's fighting. One of the most notable of these was the action of Pte. Donovan of "C" Company, who, when Lieut. Wilberforce-Bell called for a volunteer to assist him in bringing in a badly wounded man of "A" Company (Pte. Bradley), who had been left out in front when "A" Company retired, went forward with great gallantry with that officer and effected the bringing in of this wounded man. For this act Pte. Donovan was afterwards awarded the D.C.M."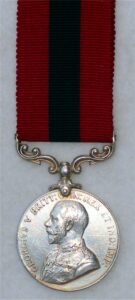 The Distinguished Conduct Medal as awarded to Patrick Donovan. The medal was established in 1854 by Queen Victoria as a decoration for gallantry in the field by other ranks of the British Army. It ranked just below the Victoria Cross. In 1993 this medal was replaced by the Conspicuous Gallantry Cross. Donovan's medal is in the Museum collection.
In September Patrick was invalided back to England with a foot problem. It must have been pretty bad, as the times were desperate, and no man could be spared. He was back with the Battalion again in February 1915 and went on to take part in the Battle for Hill 60 on the Ypres salient which started in April 1915.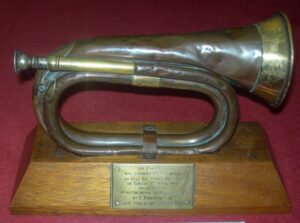 Caption:  The Charge was sounded on this bugle at Hill 60 Ypres, Belgium on Sunday 17th April 1915. Presented to 2nd Battalion, Royal West Kent Regiment by E Bradman Esq. late 7292 "A "Company 1st R W K Regiment. On display in the QORWK gallery. MNERM 1961.120
Hill 60 was not much of a hill. It was only 40 feet high, being made from the spoil when a railway cutting was excavated many years before. But 40 feet was high ground on the flat Flanders plain and the Germans who held it had a fine view over the Ypres Salient. The British had to have it, and the Germans had to hold it.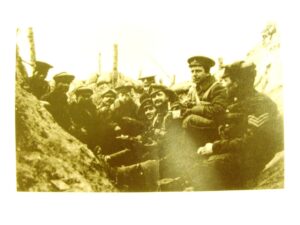 A group of 1st Battalion Royal West Kent in a crater on Hill 60 in April 1915. The only named person is Percy Bradford on the far left of the picture.
The attack went in on 17th April 1915. Six mines had been laid and exploded, so when the Battalion attacked they took their objective with little difficulty, suffering only seven casualties. The Germans lost no time in reacting, and a furious artillery barrage was unleashed, followed by a counterattack on the 18th. The Battalion was relieved on the 18th, having suffered many casualties. Among them was Patrick Donovan DCM. He is buried in Oosttaverne Wood Cemetery, grave VIII.K.10.
Hill 60 continued to be the scene of very fierce fighting, but it was finally held by the Germans until 1917.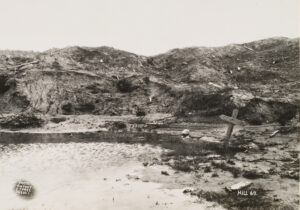 Photograph of Hill 60 by Antony d'Ypres from an album called "Eleventh Battalion. Memories on Film" Most photographs taken by Joe Woodhall.
It is now a Battlefield Memorial Site, maintained by the Commonwealth War Graves Commission. It is a lovely and peaceful place.
Sources
Service record of L/9831 Private Patrick Donovan DCM, National Archive, available on the "Ancestry" website.
"'Invicta', with the 1st Battalion the Queen's Own Royal West Kent Regiment in the Great War." By Major CV Molony, Published London, Nesbit and Co. Ltd.
The Commonwealth War Graves Commission…
Wikipedia.
See also:
https://www.ww1battlefields.co.uk/flanders/hill-60/