Back to all posts
Sophia Stacey: Independent Woman and Muse to Shelley
By Samantha Harris, Collections Manager (Maidstone Museums)
September 2020
Within Maidstone Museum's sculpture collection is held a rare, alabaster bust of a local female resident, Sophia Stacey (later Sophia Catty) (born c.1791 – died 1874). Very little was known about her until a recent project with ArtUK to photograph the sculpture collection and make them accessible online: https://artuk.org/discover/artworks/search/venue:maidstone-museum-bentlif-art-gallery-3357#work_type.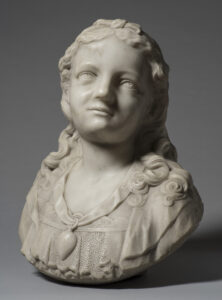 Sophia Stacey, Alabaster, creator unknown, late 19th Century (MNEMG 1921.37.2)
The bust was chosen to feature in a workshop with visually impaired visitors, so the opportunity was taken to research the sitter, and we were very surprised with the exciting story of Sophia Stacey's life. Often much that can be learned about the life of local women is based on their male relatives and spouses, who are often better documented and played a fuller role in public life. This is how the research into Sophia began, but we learned far more than we could have hoped about her personally!
Sophia's father was Flint Stacey, a wealthy and connected Maidstone businessman, referred to in his will as a 'Kent Brewer', partner in the local brewing firm of Brenchley and Stacey and Mayor of Maidstone in 1792 and 1801. Indeed Stacey Street in Maidstone is named after this notable local family. We found that the bust of Sophia had been donated to the Museum by Sophia's son, Mr Corbert Stacey Catty, along with his mineralogy collection, in 1921.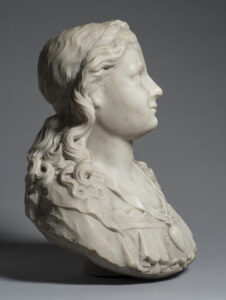 Sophia Stacey, Alabaster, creator unknown, late 19th Century (MNEMG 1921.37.2)
At a young age Sophia was placed in the guardianship of a Mr Parker, a gentleman well known in Maidstone, due to the sad, early death of both her parents (Flint and Katherine Stacey). However, this meant that she inherited at least £10,000, when she turned 21, a huge sum of money then. This allowed her to lead a financially independent life, a rare thing for a woman in the early 19th Century! Along with her wealth, Sophia also had a good education for an upper-middle class girl of the period, with some time spent in Paris; she was an accomplished amateur musician, playing the harp and having an attractive singing voice.
As a beautiful and musical girl with some fortune, Sophia was highly sought after. She spent 3 years in 'society' in Bath and Brighton where a number of suitors vied for her attention. However, her fortune and strong personality meant she did not have to marry young, evident by her rejection of all her suitors during these 3 years. This strength of character can be seen in all her portraits and in the bust held in the Museum collection, which show 'her very strong eyes'. The term 'lycanthropic' (wolf or animal-like) has been used to describe her by some.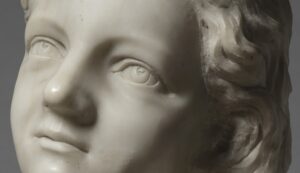 Sophia Stacey, Alabaster, creator unknown, late 19th Century (MNEMG 1921.37.2)
However, Sophia's claim to fame, discovered through the project research, is her role as a muse of poet Percy Bysshe Shelley (PBS), one of the epic poets of the 19th century. Mr Parker, her guardian, was uncle by marriage to Shelley, and it was through him that she became intimately acquainted with Shelley and thus enter his circle. His poems include mention of the 'soft clear fire' of her eyes in Shelley's memorable 'Ode to Sophia' which he dedicated to her, and 'Lines to a dead violet' – with an accompanying letter ending 'Ever yours, P.B.S'.
In 1819, aged 28, Sophia went on a grand tour of Europe with an older companion, Corbet Parry-Jones, as was to be done by wealthy people at this time. Corbet was later to be described damningly by Mary Shelley (writer of Frankenstein and second wife to the poet Percy Shelley) as 'an ignorant little Welshwoman'! In the November of 1819, they met the Shelley's in Florence where they were living. Mary Shelley was heavily pregnant and gave birth soon after their arrival. Sophia is credited with recommending the name 'Florence', and the son came to be named Percy Florence Shelley.
Blunden, author of a Biography of Percy Shelley states, "Sophia was a wide-eyed listener to Shelley's talk on the established church, love, liberty, death, music and books; played the harp, and sang very sweetly; could join in all his family and Sussex reflections. He was enchanted and said so in melodious verse".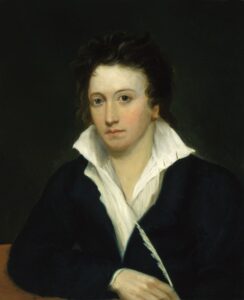 Percy-Bysshe-Shelley by Alfred Clint, c. 1829 (©National Portrait Gallery)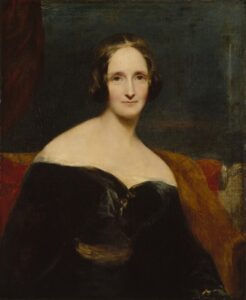 Mary Shelley by Richard Rothwell, 1840 (©National Portrait Gallery)
Here are Shelley's beautiful lines, which he presented to Sophia around Christmas 1819, 'Ode to Sophia':
I.
Thou art fair, and few are fairer
Of the Nymphs of earth or ocean;
They are robes that fit the wearer–
Those soft limbs of thine, whose motion
Ever falls and shifts and glances
As the life within them dances.
II.
Thy deep eyes, a double Planet,
Gaze the wisest into madness
With soft clear fire,–the winds that fan it
Are those thoughts of tender gladness
Which, like zephyrs on the billow,
Make thy gentle soul their pillow.
III.
If, whatever face thou paintest
In those eyes, grows pale with pleasure,
If the fainting soul is faintest
When it hears thy harp's wild measure,
Wonder not that when thou speakest
Of the weak my heart is weakest.
IV.
As dew beneath the wind of morning,
As the sea which whirlwinds waken,
As the birds at thunder's warning,
As aught mute yet deeply shaken,
As one who feels an unseen spirit
Is my heart when thine is near it.
Shelley showed Sophia around Florence for 2 months, but there is no evidence that the relationship was anything other than entirely respectable. The Bodleian Library, Oxford has a number of letters Sophia exchanged with the poet in the following months after travelling to Rome. Sophia also kept a journal of her foreign travels, which is now, unfortunately, considered lost. Shelley sent a lengthy letter to Sophia, when she was travelling to Rome, with the poem 'On a Faded Violet' inscribed on the back:
I.
The odour from the flower is gone
Which like thy kisses breathed on me;
The colour from the flower is flown
Which glowed of thee and only thee!
II.
A shrivelled, lifeless, vacant form,
It lies on my abandoned breast,
And mocks the heart which yet is warm,
With cold and silent rest.
III.
I weep,–my tears revive it not!
I sigh,–it breathes no more on me;
Its mute and uncomplaining lot
Is such as mine should be.
Sadly they were never to meet again. Shelley was drowned at the age of 29 when his boat capsized off the coast of Livorono two years later, in July 1822.
During her life Sophia refused many matches for marriages, having inherited a personal fortune herself. However, in 1823 she married the distinguished Captain James Patrick Catty (1795-1834) of the Royal Engineers. Interestingly, a coatee (jacket) belonging to Catty is in the National Army Museum in Chelsea, it is thought to be the collection's oldest piece of Engineer's uniform dating to 1827.
Catty's father was a gentleman from a well-connected French (Alsatian) family who fled to England during the French Revolution. Being a good friend of the Duke of Richmond, he and his family were well placed in English society and the military. Sophia's marriage meant she moved in high levels of society alongside celebrities and nobility, and even royalty. Her wedding was a grand affair with the reception given by Maria Fitzherbert, George IV's 'illegal' and unrecognised wife. Sadly however, James died aged only 39 in 1834.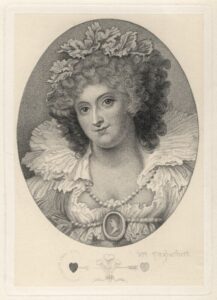 Maria Anne Fitzherbert after Richard Cosway, after 1792 (©National Portrait Gallery)
Sophia and James had a daughter and two sons who lived to adulthood. Maria, married a Royal Marine officer, Corbet (the younger son), spent time in the Household of the Lord Mayor of London, and Charles (the eldest son), followed his father into the army, fighting in the Zulu wars and rose to Major-General.
Sophia married again in 1835, to Mr Charles Hammond (though she was best known under her 1st married name, Mrs Catty). This was only a year after losing her first husband, when in her forties.
About 1855 she inherited the family home, Hill Green House, at Stockbury near Maidstone. In the 1860s she had some correspondence with Sir Percy Florence Shelley, the man she had helped name, about the verses she had been given by his father.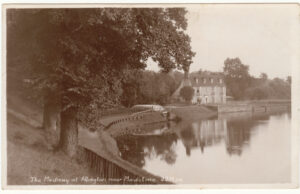 Gibraltar Inn/House on the River Medway at Allington near Maidstone, undated (MMPR-ALLTON-049)
In later life Sophia lived locally in Stone Street, Maidstone and Hill Green House, Stockbury. She owned several houses in Maidstone including the picturesque 'Gibraltar Inn' also known as 'Gibraltar House' (on the River Medway almost opposite Allington Castle) and adjacent property.
She died in Victoria Square, Pimlico, London on 11th December 1874 and was taken to Stockbury for burial. There is a memorial to her in St Mary Magdalene Church in the village. An obituary in the Kentish Times highlighted her friendship with Shelley and its importance in her life. She had outlived all of her brothers and sisters: Henry Stacey (Mayor); Courtney Stacey (Mayor); Edwin Stacey; Camilla Stacey; Mrs Crump (of Sandling Place).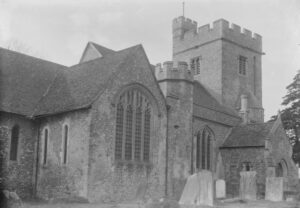 St Mary Magdalene Church, Stockbury, undated (MMPC-C23-0034)
During research into Sophia, there was some query over date of birth. Her death certificate says she was 83 when she died in 1874 (putting her date of birth as 1791. If this is correct she would then have been a year older than Shelley, and not the young, bright eyed girl she was believed to be from his descriptions of her. Also, she would have been 32 when marrying a man only in his 20s in 1823, which would have been rare for the day. A fitting mystery to book-end Sophia's fascinating life!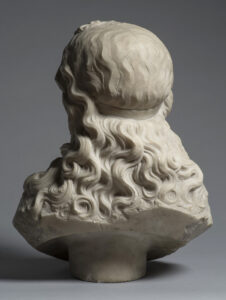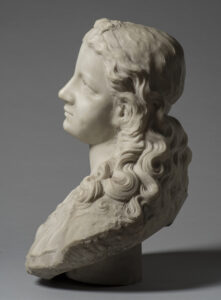 Sophia Stacey, Alabaster, creator unknown, late 19th Century (MNEMG 1921.37.2)
References:
Bennett, R M. The Catty Family. Bennett, R M, 2000.
Bieri, J. Percy Bysshe Shelley: A Biography: Exile of Unfulfilled Renown, 1816-1822, University of Delaware Press, 2005.
Blunden, E. Shelley: a Life Story. Collins, 1948.
Donovan, J., Duffy, C., Everest, K and Rossington, M (ed). Shelley: The Poems of Shelley 1819-1920, Volume 3. Routledge, 2011.
O'Neill, M and Howe, A (ed). The Oxford Handbook of Percy Bysshe Shelley. Oxford University Press, 2013.
Widmann, L. Twigs of a Tree: A Family Tale. From a Priest Defrocked by the French Revolution to English Pioneering on the Pampas: Connecting Walkers, Cattys, Goodbodys, Dysons, Adams, Eggars, Bradys and Many More. Authorhouse, 2012.