Back to all posts
Sofonisba Anguissola circa 1552 to 1625
Sofonisba Anguissola was the daughter of Annibale Anguissola a minor noble from the northern Italian city of Cremona, and Bianca Ponzone. Sofonisba was the eldest child of seven, six of whom were girls.  The children all received a good education and four of her sisters, Elena, Ana Maria, Europe and Lucia were also painters.    When Sofonisba was 14 she and Elena were sent to study with a local artist, Bernardino Campi.  She was not apprenticed, but the arrangement broke new ground in terms of women studying.
Her tutor, Bernadino Campi, was skilled at painting portraits and these were fashionable in Italy at the time. By 1549 when he left the area Sofonisba Anguissola had become a skilled painter.  However, her subject matter was restricted by her gender.  She could not employ male models and could not study and paint nudes which were required for many of the fashionable compositions of religious and historical subjects.  Instead she focused on portraits, painting her family and herself many times and developing a distinctive style.  Her portraits were lively, full of detail and expression.
Sofonisba Anguissola was supported by her father who gave examples of  her work to potential patrons and established a contact with Michelangelo.  It is said that the first sketch sent to him was one Sofonisba had made of a laughing woman.  Michelangelo asked for a crying boy and Sofonisba sent him a picture of her brother crying after being bitten by a crab.  This was the beginning of an exchange of drawings where Michelangelo passed on some of his drawings to Sofonisba and influenced her style though mentoring and advice.
Her work was sufficiently highly thought of for her to be recommended to Philip II of Spain who was looking for a court artist and lady in waiting for his bride Elisabeth of Valois.  Sofonisba moved to Philip's court and painted many portraits of courtiers and Elisabeth and Philip himself.  She also taught the queen painting.  Sadly, Elisabeth de Valois died aged only 22, but Sofonisba stayed in Madrid.  She continued painting and helped raise the royal daughters  She married a Spanish grandee but was widowed when her husband died in a shipwreck.
In 1578 she was in her late forties and set out to return to Cremona.  On the journey she met and fell in love with the captain of her ship, a Genoese patrician called Orazio Lomellino.  They married in the 1580s and settled in Genoa.   Sofonisba received a pension from Philip and her new husband was well connected.  She continued painting and enjoyed another forty years as a respected portrait painter. Her successor as court painter in Madrid was Peter Paul Rubens and he paid her a visit in 1607. Sofonisba and her husband later moved to Palermo where aged 96 she met the young Anthony van Dyck who admired her work.
In 1956 Maidstone Museums received a bequest of an  oil painting.  The accession register reads,  "Oil painting on canvas, attributed to Sofonisba Anguissola, Court Painter to King Philip II of Spain. Possibly a Portrait of the Granddaughter of the Duke and Duchess of Parma."
The museum files date it to around 1580, when Sofonisba Anguissola would have been back in Italy and the sitter of the portrait is identified as Margherita Farnese (1567 to 1643).  The current  Museum caption says that she is probably about 13 years old in the painting and that she was about to marry the future Duke of Mantua.  The marriage was annulled two years later, and Margherita became a nun in Parma.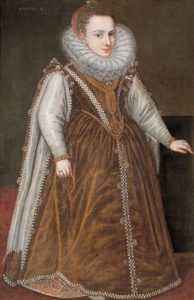 The painting is very much is the style of Sofonisba with its expressive face and sumptuous clothing detail.  It is known that she painted other members of the Farnese family, for instance Alessandro Farnese in about 1560, but the painting does not appear to be signed by her and there are some puzzling questions as to the sitter and the previously attributed age.  In the top left hand corner of the painting is the inscription "AETATIS 6" This means at the age of 6 and as Margherita Farnese was born in 1567 this means that the painting must date from around 1573 rather than 1580 if she is correctly identified as the sitter.   It is unclear if their paths crossed so Sofonisba would have been able to paint the portrait.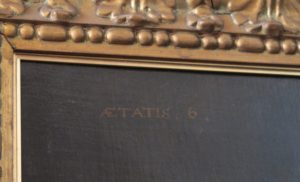 Comparing a detail of the face of the portrait attributed to Sofonisba and a later painting by an unknown painter there is a certain resemblance but comparing different artists and a potential sitter at different ages is difficult.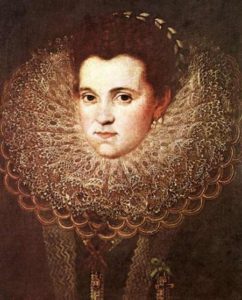 ( Attribution: Wikimedia – Public Domain) (http://www.kleio.org/de/geschichte/stammtafeln/habsburger/Pantoja1a.html)
The Public Art website, Art UK, has recently reassigned the painting to the Netherlandish School and it may be that the painting is an example of Sofonisba's influence on portraiture rather than an example of her work. It is an intriguing question awaiting further study.   Anguissola was remarkably influential in her time and traces of her style are especially evident in the art traditions of the Netherlands.  Only 50 works have been safely attributed to Sofonisba, but they are in major art galleries throughout the world and her success as an artist paved the way for later generations of women to work as independent artists.
Pernille Richards
Sources:
DiGuiseppe, Donna, A Pictoria Companion to Lady in Ermine, The Story of Sofonisba Anguissola, Amazon Fulfilment, 2019 See also www.Sofonisba.net
Davis Robert C. & Lindsmith, Beth, Renaissance People, Lives That Shaped the Modern Age, Thames & Hudson, 2019
Maidstone Museums archive records
Tsaneva, Maria, Sofonisba Anguissola, Amazon Fulfilment, 2019
https://artuk.org/  17 February 2020
https://en.wikipedia.org/w/index.php?title=Margherita_Farnese&oldid=895148868  17 February 2020