Back to all posts
Maidstone and its Industrial Past (Part 4)
In this series of blogs, Collections Manager Samantha Harris uncovers some of the local industries which have shaped Maidstone's past, including the topics of:
Maidstone at the Centre
Maidstone Market
Hop picking
Brewing
Papermaking
Confectionery and Food Production
Engineering
Agricultural Equipment
In the fourth blog of the series we will briefly look at Maidstone's confectionary and food production past. Follow the rest of the blog series to find out more about Maidstone's industrial history . . . . . .
Confectionery and Food Production
Over the years there have been a number of food and sweet producers based in Maidstone, but two became international names and were large employers in the town – Sharps and Foster Clark.
Sharps – Maidstone Toffee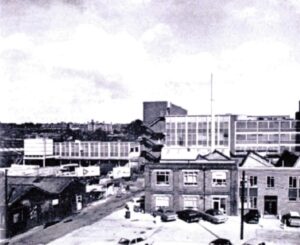 Sharps Factory, 1970s
Nicknamed the Kreemy Works, the Sharps factory in Maidstone was one of Maidstone's main employers for much of the 20thC, © Maidstone Museums
"The finest day's work in my life" – Edward Sharp was dismissed from his first job for not raising his cap to the owner.  In 1876 he opened a small shop on Week Street, which was at first a grocery. However, he also sold a small selection of sweets made by his wife, which became so popular that he gave up on the grocery and it became a sweet shop, turning a local ice rink on the bank of the River Medway into a factory. This would lead to the production of 'Kreemy' toffee, which was perhaps Sharp's best known confectionery.
By 1921 Sharps claimed to be the largest toffee makers in the World, this was mostly due to superb advertising, including the character 'Sir Kreemy Knut'. Their success saw Edward Sharp and Sons Limited appointed as Confectioners to Her Majesty in 1968 and the Queen chose Sharp's products as Christmas gifts to London children's hospitals.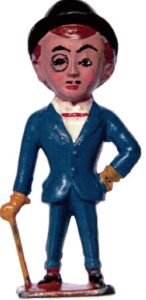 Sir Kreemy Knut
The character was the face of sharps from 1919. A knut was the name given to a dandy pre WW1. © Maidstone Museums
Edward Sharp was a reserved and principled character. He rose early, starting the day with a cold bath and drank ginger beer not alcohol.   He would not allow his chauffeur to drive on Sundays and resigned in protest from Maidstone Borough Council (he was elected to the Liberal Party in 1919) when they tried to open cinemas on Sundays.  In 1923 he donated Clare Park (on the Tonbridge Road), to the people of Maidstone and named it after his wife with a drinking fountain by the main gate commemorating the event. He died 'Sir Edward Sharp Bart' in 1931 aged 77.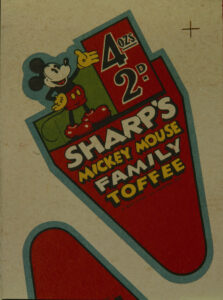 Packaging for Sharp's Mickey Mouse Family Toffee
20th century, © Maidstone Museums
In the 1960s Sharps joined with the company Robertson and Woodcock to become Trebor Ltd (now run by Cadbury Schweppes) and continued to manufacture in Maidstone until 2000, when the factory was closed.  But the family trade continues – Eddie and Shiela Sharp run Sharp Confectionery Products in Australia and still make toffee.
Examples of sharps toffee and sweets packaging
20th century, © Maidstone Museums
Foster Clark
Another Maidstone food manufacturer was Foster Clark's. The company was first created and founded by George Foster Clark who started out mixing ingredients together in his mother's kitchen. As the years went by, it went from a small business in a shed to a multi-site international business with factories internationally.
George Foster Clark was born in 1864 and when he was just 13, started work as an errand boy and later a grocer's apprentice in Plaxtol. After his 4 year apprenticeship was completed, George became an assistant to the grocer, Thomas Carpenter, in Maidstone. He was soon promoted to manage Carpenter's other grocery shop in Broadway, Maidstone and went on to marry his employer's daughter, Henrietta.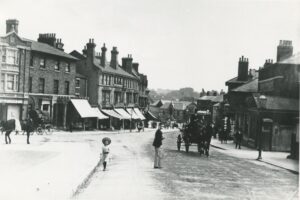 Broadway, Maidstone, c. 1880
Location of Carpenter's Grocery Shop, © Maidstone Museums
In 1889, age 25, George began to experiment with the manufacture of small batches of baking powder, cake flour and lemonade powder in his mother's kitchen. The products proved popular, so he sold them to customers in the shop.
With confidence in his products, he started out as a grocer's sundries man, working out of a small shed, with capital of £27.50. He was then joined by his brothers, and the firm became 'Foster Clark & Co'.
George Foster Clark saw the need of powerful advertising in developing a recognisable brand.  At the time, the Eiffel Tower had just been built in Paris for the Exhibition of 1889, so he decided to capitalise on its popularity of the modern marvel and register the name for his lemonade trademark. Eiffel Tower Lemonade soon became a household name across the country.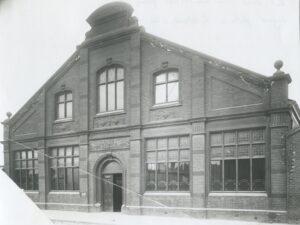 Foster Clark's Factory, Hart Street, Maidstone
Undated, © Maidstone Museums
As Foster Clark's business grew in popularity and demand, so in 1895 he bought part of the old Chambers' Jam Factory in Hart Street, Maidstone. By 1910, with growing successes, the capital of the company had risen to £54,300 and it registered as a private company. The size of the premises grew, as did the range of products, becoming one of the most modern food manufacturing companies in the country, annually producing thousands of tons of soups, jellies, custard powder, blancmange powder, and lemonade products.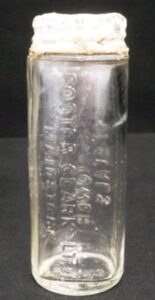 Foster Clark product bottle.
Undated, © Maidstone Museums
In 1928, Foster Clark's had a capital of £500,000 and became a public company and Company Shares were given to all employees who had served for ten years' or more. By 1929, the canning of fruit and vegetables was also started, using mostly local produce from Kent including millions of cans of peas, carrots, cherries and many other fruits and vegetables. It was one of the first companies in the country to undertake this process.
George Foster Clark died peacefully in his sleep in 1932 aged 68, leading to his brother, Henry Charles Clark becoming Governing Director of the company. After the Second World War he added a 50,000 sq. ft. extension to the factory in Hart Street, equipping it with some of the most cannery equipment available at the time.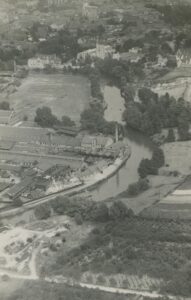 Foster Clark's Factory (Hart Street, Maidstone), Lockmeadow and River Medway,
20th century, © Maidstone Museums
The 1950s saw a change in public eating and cooking habits with a move to frozen and fast foods. This caused Foster Clark financial problems, with a drop in sales for their type of food products, so in 1960 it merged with the St Martin Group of Companies. But in 1961 catastrophe struck when one of their warehouses, on Hart Street / Barker Road, was engulfed in fire. Sales continued to struggle and in 1965, the Foster Clark name was sold to Oxo Ltd.
To learn about some of Maidstone's engineering past, see our next blog
If you would like to find out more about Maidstone's confectionery and food production past, you may wish to look at some of these sources of information:
REFERENCES:
Clark, P & Murfin, L. The History of Maidstone – the Making of a Modern County Town. Allan Sutton: Stroud, 1995
Cooper, C. Maidstone: A History. Phillimore & Co Ltd, 2010
Hales, Irene. George Foster Clark and the Eiffel Tower Works, Maidstone. Online: fosterclark.info Accessed 2021-02-12
Hewett, RV (ed). Maidstone 1549-1949: Official Charter Brochure. Vivish & Baker Ltd: Maidstone, 1949