Back to all posts
Beautiful Beadwork Baskets ~ International Women's Day
By Samantha Harris, Collections Manager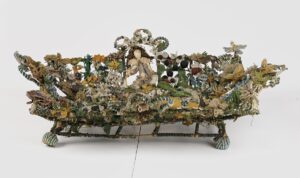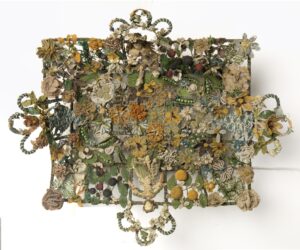 Ref: MNEMG 1912.3
Basket made of beadwork. Flowers, leaves, fruit, etc. worked with coloured beads on a wire frame and figures of a man and woman in the costume of the period of Charles II, c. 1650. Called 'Christening Baskets.' From Cornwallis, F S W Mrs, Linton Park 1912 © Dorling Kindersley
This beautiful basket is made from thousands of tiny, colourful, glass beads, often referred to as 'seed beads' or 'bugles', which were produced in huge quantities and exported from Europe (mainly Venice and Amsterdam) from around the 1630s. They became popular in embroidery and beadwork, and in the case of this basket which was made in England, are threaded onto wire to create 3D sculptural forms such as flowers, leaves, berries, peapods and male and female figures.
Made in the years following the English Civil War, it is amazing to think that this rare survivor, a piece of such beauty and craftsmanship, would have been made following a period of such political turmoil.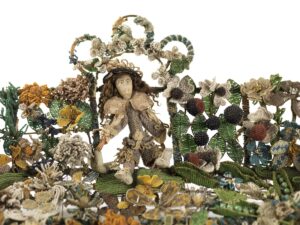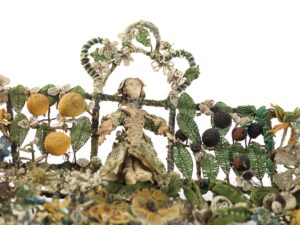 © Dorling Kindersley
Decorative motifs such as those on the basket were popular in the 17th century, with the creation of pattern books containing landscapes, gardens and scenes from the bible. The royal family and the theme of marriage too were popular inspiration for beadwork, stumpwork and embroidery, in particular Charles II and Catherine of Braganza following their marriage in 1662.
The basket can be dated by the style of costume worn by the male and female figures, which is typical of the mid 17th century. The purpose of such baskets is a subject of discussion, historically they were believed to have been for holding baby's clothes or gifts for a christening. Silver 'layette' baskets in a similar shape were used for this purpose. Another suggestion is that they were used for favors including herbs or gloves at weddings or festivities. The male and female figures on this basket may represent marriage for example and the theme of nature could also symbolise fertility and growth. Or the baskets may simply have been decorative table centrepieces.
A number of very similar beadwork baskets survive from this period, and share the same structure consisting of a rectangular wire frame with round feet, sides tapering out from the base, with wire at regular intervals to form square openings. The handles are bent in a trefoil shape in the centre of each of the four sides and the structural wires are wrapped in colored beads in varied patterns.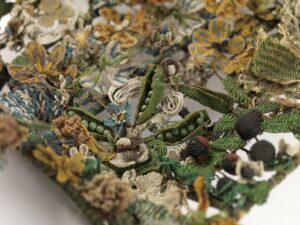 © Dorling Kindersley
The seventeenth century was a golden age of British embroidery, during which a growing group of upper class women and girls from affluent families started undertaking embroidery as a ladylike pursuit. Alongside this, the popularity of beadwork, 'stumpwork' or 'raised work' developed. The images represented were often interchangeable between embroidery and beadwork – such as the pattern book designs of nature motifs and Charles II and Catherine of Braganza allegory mentioned above. However, unlike light-sensitive silks and wools in embroidery, beads had the advantage of retaining their vibrant colour.
It is probable that baskets of this kind were made by professionals or perhaps sold as kits for making at home. Certainly on similar examples in other museum collections, it is likely that intricate fruits and flowers were professionally produced, and even human figures have been known to be prefabricated and added into a 'home-made' design. Also the wire basket frames of surviving basket examples suggests that the frames themselves could be purchased ready-made, in the same way that pre-printed or drawn embroidery canvases could be purchased, in kit form.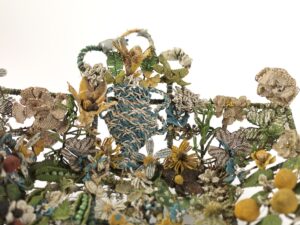 © Dorling Kindersley
How did it come to be at Maidstone Museum? The item was donated by Lady Cornwallis of Linton Park in 1912. The history of this basket is unknown, but other beadwork baskets were treasured possessions, likely passed down the female line for several generations as a cherished heirloom.
This is a rare and important survivor of the beadwork craft, with similar examples found at the Holburne Museum, Fitzwilliam Museum, Met Museum, Norfolk Museums, Burrell Collection and Corning Museum of Glass (see references for links to these object records).
References:
 Chris Berry, 'For pleasure and ornament: Review of Whitney Antiques', Stitch Magazine Issue 82 April/May 2013, pg 38-41.
Corning Museum of Glass, 'Beaded Basket Depicting a Couple', https://www.cmog.org/artwork/beaded-basket-depicting-couple . Accessed 2021-08-04.
Fitzwilliam Museum, 'Beadwork Basket', https://www.fitzmuseum.cam.ac.uk/collections/ceramics/131109. Accessed 2021-08-04.
Rachael Hale/History Magpie, 'A Rare 17th Century Beaded Christening Basket, Maidstone Museum, Kent',  https://historymagpiedotcom.wordpress.com/2013/10/15/a-rare-17th-century-beaded-christening-basket-maidstone-museum-kent/.  Accessed 2021-08-04.
Holbourne Museum, 'Bead Basket', https://www.holburne.org/bead-basket-2/. Accessed 2021-08-04.
MET, 'King Charles II and Catherine of Braganza with allegories of the four continents after 1662 (British)', https://www.metmuseum.org/art/collection/search/226421 . Accessed 2021-08-04.
Norfolk Museums, 'Christening Basket', http://norfolkmuseumscollections.org/collections/objects/object-117314471.html. Accessed 2021-08-04.
Jonathan Tavares, 'English Embroidery from The Metropolitan Museum of Art, 1580-1700: 'Twixt Art and Nature' / Andrew Morrall and Melinda Watt ; New Haven ; London : Published for The Bard Graduate Center for Studies in the Decorative Arts, Design, and Culture, New York, The Metropolitan Museum of Art, New York [by] Yale University Press, 2008.