Back to all posts
A Grenadian Artist in Maidstone: Gordon de la Mothe OBE
By Samantha Harris, (Collections Manager, Maidstone Museums)
This Black History Month, with the theme PROUD TO BE, we celebrate a Caribbean diaspora activist, artist and teacher of colour who lived and studied in Maidstone: Gordon de la Mothe OBE. Following a donation of his works to Maidstone Museum in recent years, we explore his story and art.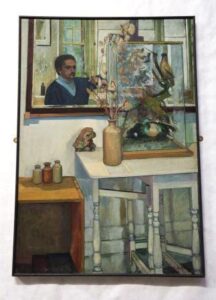 MNEMG 2019.12.1 , A Matter of Reflection , An acrylic self portrait of Gordon de la Mothe
Artist: Gordon de la Mothe OBE, 1978, 773mm x 615mm
As an introduction to the artist and his works, we share the only self-portrait in the collection, titled 'A Matter of Reflection' (1978). The space depicted in the painting is the lower front room of a flat in which de la Mothe was living at 50 Buckland Road (Maidstone). The painting is dominated by the furniture and decoration in the room including tables, bottles, a vase flowers and even a glass case displaying taxidermy birds. In the mirror is de la Mothe (the artist) himself, shown in the reflection gazing at the viewer with a penetrative stare. The reflection of the mirror, also shows other elements of the room beyond the artist, such as a window, giving depth to the painting. This was the first of a series of paintings created in the lower front room of 50 Buckland Road. The flat had been rented by de la Mothe's friend Richard Cook, who had moved to Brighton so Gordon was looking after the property for him.
Born in Carriacou, Grenada in 1933, Gordon de la Mothe completed his education in 1950 at the Grenada Boys Secondary School. Between 1951-1958 he worked as a Mercantile Clerk at W.E. Julie & Co. It was in 1957 that de la Mothe moved to England, living initially in Luton. Between 1959-67, he worked an as an itinerant worker, whilst also being a part-time student in London.
He was a student in the Art Foundation Course at Luton College of Art, Bedfordshire between 1967-1969 and later between 1969-1972 furthered his art studies at Maidstone College of Art, gaining a diploma in Art & Design. In the 1970s he created a large number of landscape/townscape paintings of the town which feature many local landmarks.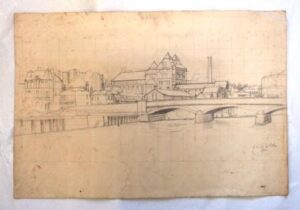 MNEMG 2019.12.7, Bridge and Brewery 1974
Artist: Gordon de la Mothe OBE, 1974, 381mm x 560mm, Pencil on paper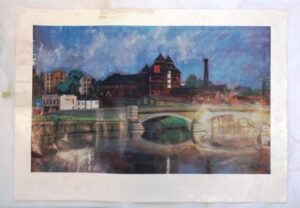 MNEMG 2019.12.10, Bridge and Brewery
Artist: Gordon de la Mothe OBE, 1976, 443mm x 632mm, Print on paper
The above local view, which looks very different now the brewery has gone, is the pencil sketch titled 'Bridge and Brewery 1974' and print of the same name. The image is looking out over the River Medway, with the river and old bridge in the foreground, and Maidstone town situated behind. On the drawing, a grid has been used to aid with the scale of the drawing. On the reverse of the drawing a label in de la Mothes writing reads: "Bridge and Brewery 1974, Study for a painting which was sold to a friend of a friend in the USA". The museum collection holds a copy of a print made from the original artwork, for which an edition of 2000 copies were printed.
On qualifying from the University of Liverpool with an Art Teachers Diploma in 1973, he worked as an Art Teacher at Hillview Secondary School for Girls, Tonbridge. During this period de la Mothe was living on Randall Street in Maidstone c. 1973-1985.
In the late 1970s Gordon de la Mothe was a member of the 'Rainbow Art Group', an intriguing new initiative involving a number of London artists in promoting the art of minority communities. The group consisted of Indira Ariyanayagam, Uzo Egonu, Lancelot Ribeiro, Taiwo Jegede, Errol Lloyd, Yeshwant Mali, Gordon V. de La Mothe, Durlabh Singh, Suresh Vedak, Ibrahim Wagh, and Mohammad Zakir. The Rainbow Art Group undertook several exhibitions during the time of its existence.
Between 1985-87 de la Mothe was the director for the Teaching and Education Project with the Caribbean Teacher's Association and he returned to teaching between 1988-97 in London. He is known for developing the successful series of teaching sessions which were eventually published into the groundbreaking book 'Reconstructing the Black Image' in 1993.
His main interest, as an artist, was the illustration of his environment and studies of people. While living in Maidstone de la Mothe exhibited some of his paintings at the Royal Academy and at the Mall Gallery in London, with the Royal Society of British Artists and the New English Art Club. He also exhibited works widely in Maidstone, Folkestone and Brighton.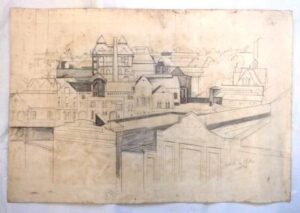 MNEMG 2019.12.6, Medway Brewery
Artist: Gordon de la Mothe OBE, 1974, 380mm x 550mm, Pencil on paper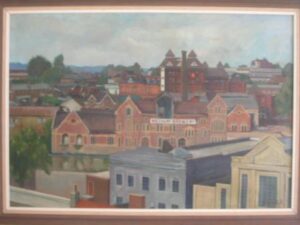 MNEMG 2013.6, Medway Brewery
Artist: Gordon de la Mothe OBE, 1975, 600mm x 840mm, Oil on canvas
Above we have a preparatory sketch and finished oil painting of the same Maidstone view. The A3 pencil sketch titled 'Medway Brewery 1974' and later oil 'Medway Brewery 1975' show a now disappeared townscape. Depicted from an interesting, higher up perspective, it shows some areas of rooftop which are less recognisable. This is a study for the finished oil painting that was exhibited at the Mall Gallery, London with The New English Art Club. It was later sold to someone in one of the villages near Maidstone, through a local shop before being acquired by the museum in 2013.
In more recent years Gordon de le Mothe found that art education was lacking in Grenada, so in response he held a retrospective exhibition as part of his effort to promote the teaching of GCSE and A Level art. The courses he began and taught have resulted in many successful young people establishing careers in the West Indies, America and Great Britain. The effort was successful and led to him being awarded an OBE in 2015.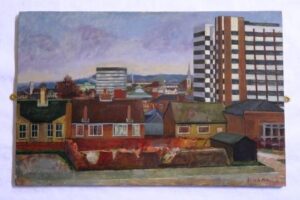 MNEMG 2019.12.5, Across Maidstone
Artist: Gordon de la Mothe OBE, Undated – c. 1970-1976, 490mm x 750mm, Oil on board
One of the strengths of de la Mothe's early works when living in Kent, is that they depict quite modern, urban views of Maidstone, which we have relatively few examples of in the collection. This scene is from Foster Street, off the Hastings Road in Maidstone. It clearly shows the recognisable tower blocks which still stand in that area.
He continues to live in the UK with close links to Grenada, and in 2019 donated a collection of his acrylics and preparatory sketches to Maidstone Museum. The museum is proud to curate the works of this influential Grenadian activist, artist and teacher, providing one of the diverse views and voices within the collection.
References:
Black Cultural Archives, '1982 by Gordon de la Mothe', https://artsandculture.google.com/culturalinstitute/beta/asset/1982-gordon-de-la-mothe/jAGb_3gmOtO1oA?hl=en , (Accessed 2021-07-29)
Black Cultural Archives / National Archives, 'Mothe, Gordon de la (1959-2010 archive, Ref: AC2011/3; AC2014/17)', https://discovery.nationalarchives.gov.uk/details/c/F78936 , (Accessed 2021-07-29)
Diaspora Artists, 'Gordon V de la Mothe', http://new.diaspora-artists.net/display_item.php?id=2041&table=artists, (Accessed 2021-07-29)
Gordon de la Mothe, 'Reconstructing the Black Image', Trentham Books: 1993
Waving Art Gallery, 'Gordon de la Mothe Solo Exhibit', https://wavingartgallery.wordpress.com/gordon-de-la-mothe-solo-exhibit/ , (Accessed 2021-07-29)