For Kids
Wheels of Time – badge collecting family fun
Join 'Roamin' Rex and discover many of Kent's museums and heritage sites, collecting individual badges along the way. Visit any of the museums and heritage sites shown on the MAP and collect a different badge at each one.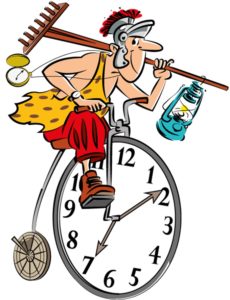 Earn award badges
Collect 10,20,30 or 40 badges to earn a special Roamin' Rex award badges. Contact Wheels of Time via AWARDS to make arrangements to be presented with your award badge.
8 new sites are joining the scheme from April 2020.
Badges are only available to child visitors aged between 5 and 11 years visiting with their family.
Maidstone Museum's badge features Spike. Ask at the main reception for your badge.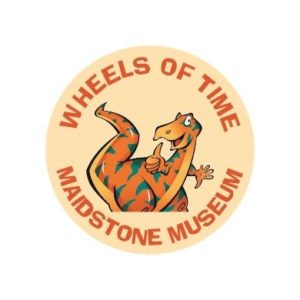 Kent Children's University
Wheels of Time is a Kent Children's University (KCU) accredited activity. Students can earn learning credits at various Wheels of Time sites. You can also earn additional credits at Wheels of Time sites that are accredited KCU Learning Destinations. Visit wheelsoftime.uk to find out which sites are KCU Learning Destinations.
Maidstone Museum have a wheel themed trail that can be completed to earn  a KCU credit.
KCU learning credits are available to KCU students aged between 5 and 14 years, subject to the site accreditation. Visit www.kentchildrensuniversity.co.uk to learn more about Kent Children's University.
Wheels of Time included attractions
Agricultural Museum, Brook
Ashford Museum
Blue Town Heritage Centre
Chiddingstone Museum
Crabble Corn Museum
Cranbrook Museum
Deal Maritime and Local History Museum
Dover Transport Museum
Eastchurch Aviation Museum
Eden Valley Museum
Elham Valley Railway Museum
Fleur De Lis Museum
Fort Amherst
Guildhall Museum, Rochester
Heritage Hub, Sittingbourne
Huguenot Museum
Hythe Local History Room
Lashenden Air Warfare Museum
Lydd Town Museum
Maidstone Museum
Medway Queen
Milton Regis Court Hall
Minster Abbey Gatehouse Museum
Queenborough Guildhall Museum
RAF Manston History Museum
RAF spitfire and Hurricane Museum
Romney Marsh Wartime Collection
Rose Street Cottage of Curiosities
Royal Engineers Museum
Sandwich Guildhall Museum
Sevenoaks Museum
Sittingbourne and Kemsley Light Railway
Sittingbourne Heritage Museum
Tenterden Museum
The Old Forge Wartime House
The Seaside Museum, Herne Bay
Timeball Tower, Deal
Union Windmill, Cranbrook
Willesborough Windmill
Woodchurch Village Life Museum
8 New sites joining in April 2020
Fort Luton
Fishing Museum
Folkestone Museum
Fordwich Town Hall
Dover Museum
Ramsgate Tunnels
Tudor House, Margate
Margate Museum
For more details, head over to the Wheels of Time website today.
Please note: 'Wheels of Time', 'Roamin' Rex' and the Roamin' Rex logo are trademarks of Ashford Borough Museum Society.